Control the Costs of Cloud Services
Managing the cost of cloud is dramatically different than a traditional data center. Increase visibility into your allocated resources, costs and billing to help you maximize the cost-effectiveness of the public cloud. Our inventory reviews, remediation, detailed billing reports, cost tagging, budget threshold status reports and enhanced cost optimization recommendations give you more insight into your public cloud costs to reduce your cloud expenditures.
Cloud Cost Optimization & Governance
Managing cloud costs requires governance and insight. Effective cloud governance is the foundation for predicting and controlling costs. Control Spend, Improve Performance, and Proceed with Confidence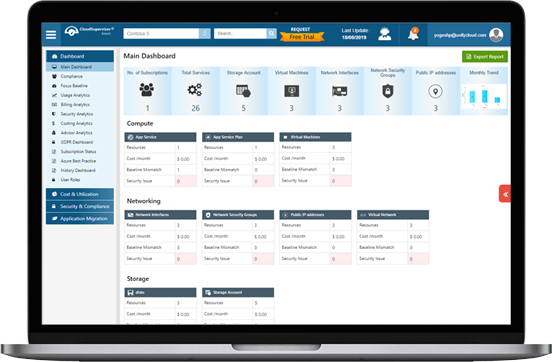 Cloud Optimization Done Right. Continuously.
To maximize performance-for-spend in the cloud, you must align best practices and governance procedures to realize efficiencies across your cloud environment. By partnering with Technoir, you gain the knowledge, skills, and collaborative processes required to optimize costs and enhance governance in your cloud. Our inventory reviews, detailed billing reports, resource and cost tagging, budget threshold status reports, and optimization recommendations will give you more insight into your public cloud costs and maximize the efficiency of cloud spending.
Why TechNoir Cloud Services?
SIMPLIFIED INVOICING
Get insight into your spending with streamlined billing and customized dashboards and reports.
DEDICATED CLOUD TEAM
Technical professionals in charge of selecting cost optimization solutions for infrastructure, operations and cloud management.
EXPERT GUIDANCE
Leverage the Technoir team's deep experience in containing costs without sacrificing performance and flexibility.
RESOURCE RIGHTSIZING
Eliminate wasteful over-provisioning of resources by aligning infrastructure with performance requirements.
Want to reduce your cloud budget by
15-20%?
Schedule a free consultation.
TechNoir Solutions believes we are only as good as our last result. Results starts with our consultative process. No hard sell, no over promising, just exceptional service and uncompromising performance.